The presentation on Food In Anime by Emily Bushman at FanimeCon 2018 was spectacular. She is, in her words, a Professional Food Blogger. And it fits perfectly.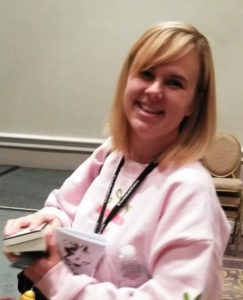 But she's not a food critic as you might imagine. She is a cook, no, chef, who delights in investigating new dishes, trying them out and sharing them with family and friends. Emily has a fantastic personality, and provided us with a fun and delightful panel.
She laid out her steps for us during the panel, but basically, she sees a food or dish being eaten or made in an anime, figures out what it is called and searches for the recipe to recreate the dish. This is sometimes really difficult to find, maybe even obscure, like a certain deer stew recipe, Yuk Ohaw, she shared with us. The dish is indigenous to a small, remote group in Japan, as seen in her video here and the accompanying post on her main site.
Some of the dishes she recreates are simple, like the ramen Naruto eats and some are extravagant and expensive, like those usually featured in Food Wars (yes, that's a fun anime if you haven't seen it; bordering on ecchi when the characters taste the food). Her recipe that caught my eye the most was the Tempura Egg Don. I'll be trying this first!
Emily's work has been featured on several top anime sites including Crunchyroll and everything can be found on her website yumpenguinsnacks.com, her YouTube channel EmilyBushman, Tumblr or her twitter @yumpenguinsnack.
Prepare to be amazed at the detail she goes into on each recipe and in every blog post and video. I know you will find something that you want to try to make yourself and your friends. Happy snacking!