During FanimeCon 2018 I attended the most amazing panel on cosplay and how it can relate to getting a job in the industry you're interested in.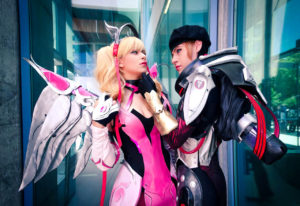 The duo known as Aicosu, covered everything from how to turn your cosplay and convention going skills into relevant work experience to how to format and write your resume and cover letter. And I have to say that I learned more about writing a resume then I have from any other class or YouTube video I've ever taken or watched on resume writing, including the importance of a cover letter and how to make sure that you stand out among the sea of other applicants.
Their panel covered just about every aspect of working in the acting and design industries. Some of the highlights are:
Joining the Voice Acting Guild is mandatory for voice actors.
Modders for video games are usually looking for voice actors since the modder cannot use the original voice even tho they use the same lines.
United Stations VA for 3 min quick jobs on radio stations or call in shows.
If you want to get started in voice acting, just start recording something and put it somewhere. Even putting out Tumblr requests for clips where you are given lines and you record and post them.
Take a singing class to learn how to manipulate your voice.
Your resume should be part of your craft. Make your name huge. Highlight your contact info with the same color you used on your name.  Always give references on the resume, usually 3 people. Use color on the resume and cover letter.
Video game industry needs storyboarders. There arw not enough to go around. If you are an apiring game designer, this can be a great way into the industry. You are paid well and honestly you don't have to draw very well, just be able to lay out a storyline.
First 5 hashtag are the only ones used, can be shadowbanned, so make them count. 3 is optimal.
Posting times are important when growing your audience, to make sure you are seen. Instagram has tools to help you determine the best posting times. Lunch time is usually good because people check social media at lunch.
Join groups on Facebook for cosplay, marketing, voice acting, etc.
Even when you work as an independent contractor or own your own business, like I do, you never know when you may need a resume to get that contract or meet the right person who wants to see your resume to include you in a special project they're working on.
If I connect with Aicosu again, I'll try to add some of their presentation slides. It really was totally informative.