This November, anime enthusiasts are in for a treat! The renowned Ghost in the Shell series, now part of Netflix's lineup, is gearing up for a brand new movie. Major Motoko Kusanagi and her elite team at Public Security Section 9 are ready for another adventure in Ghost in the Shell SAC_2045: The Last Human.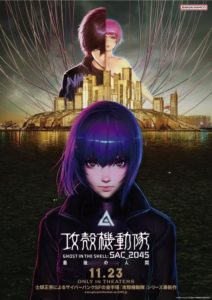 Premiering on November 23, 2023, in select Japanese theaters, and following shortly, the international release on Netflix.
Under the direction of Kenji Kamiyama and Shinji Aramaki, Ghost in the Shell SAC_2045 is the fourth animated series of this awesome franchise. This film doesn't just bring together the second season of Ghost in the Shell SAC_2045, but will also introduce new, exclusive content to amplify the narrative of 2045's 2nd season.
The inaugural season of SAC_2045 is set in the year 2045, a decade after the events of 'Stand Alone Complex'. Major global powers including China, Russia, the European Union, and the United States have entered a "sustainable war", opting for artificial intelligence and enhanced human agents over traditional soldiers.
The emergence of post-humans threatens US control over sustanable war and Section 9 is thrust into an investigation of them. These post-humans exploit this global turmoil for personal objectives, and presents Kusanagi and her crew with unprecedented challenges.
The 2nd season sees Section 9 reestablished as an official governmental agency, delving deeper into the mystery of the post-human threat. Though the upcoming film will consolidate the episodes of this second season, both Netflix and the Ghost in the Shell team have infused it with fresh, unreleased content to bolster its thematic depth and drama.
Ghost in the Shell SAC_2045: The Last Human is more than just a season recap. It's an expertly woven cinematic experience, enhanced with exclusive additions to present a more cohesive and powerful storyline. GITS devotees are in for a wild ride so, get ready for an deep dive into the universe of Ghost in the Shell SAC_2045.
Check out the official trailer here: